Itinerary | Lodgings | Important Things to Note
Itinerary
Our time together will be spent doing deep work at Ireland's sacred sites, along with relaxing times in town to enjoy traditional music sessions and delicious local cuisine. We strive to not over schedule our days, so we have plenty of time to explore each site fully. We will balance free time with group meditations, rituals, workings, and classes. We have left some free time in the schedule, and we will be adding additional visits as local festivals and events get posted. Please re-visit this page to see updates. Gods we are working with on this pilgrimage include Goibhnui, Cailleach, Brighid, Aine, Morrigan, and Manannan Mac Lir.
The Burren
The Burren is an amazing 1,500 hectares of natural beauty. This limestone region is one of the most diverse areas in Ireland, holding many species of flora and fauna not found elsewhere in Ireland. We will take a nice guided tour through the landscape, and visit the Poulnabrone Dolmen. The Burren is an UNESCO supported Global Geopark.
Cliffs of Moher
We will visit this iconic Irish Site together. The cliffs themselves are a beautiful unique geological site which was formed over 300,000 million years ago. After exploring the cliffs, we will visit the award winning Cliffs of Moher Visitor Centre. Built into the ground, it's quite beautiful and informative on both the Cliffs themselves and Ireland's natural geography. The Cliffs of Moher are an UNESCO supported Global Geopark.
Lough Gur
For Beltane, we will be spending an entire day at Lough Gur concluding in circle together for Beltane at the largest stone circle in Ireland, The Grange. During our time at Lough Gur we will have the opportunity to explore over twenty unique and important historic sites spanning 6,000 years from the Neolithic time until the current age. The area is rich in folklore and history. We will see Neolithic stone circles, tombs, and habitation sites. Iron age ring barrows and hillforts. We will visit the site of a Crannog. We top of our day with two medieval castles Bouchiers & Black. The site also hosts a small heritage centre with a guided audio tour.
Beara Peninsula
We have two full days to explore the Beara Peninsula The least visited, uncrowded and unspoiled of Ireland Ancient East's Peninsulas, Beara Peninsula houses over 600 historical sites of importance. We will visit ancient stone circles, neolithic burial tombs, lakes, beautiful vistas and views. We will walk through a landscape of sites steeped in lore and legend associated with the anChallieach & The Children of Lir.
St. Gobnait's Church and Well
St Gobnait was a medieval saint of bees and blacksmiths. We will visit her church and well, which has been a pilgrimage destination since her original times. The holy wells of Ireland were holy in Pagan times and adapted into the modern Catholic beliefs. Together we explore how to bring together the past and present and create a practise meaningful and inclusive. We will explore if we believe St. Gobnait was a re envisioning of Goibhniu, the smith God of the Tuatha De Danann.
https://holywellsofcork.com/2016/02/12/three-wells-dedicated-to-st-gobnait-ballyvourney/
Gougane Barra
Gougane Barra was Ireland's first National Park when it opened to the public in 1966. This picturesque site is both beautiful and remote. We will be spending time hiking and in quiet private time. The magnificent Forest Park covers an area of over 400 hectares (1,000 acres).
Drombeg Circle
Today we will visit another iconic Ireland site. Dromgbeg Circle. Drombeg has Fulacht Fiadh, a neolithic cooking pit, a stone circle, several standing stones and an amazing view of the surrounding area.
Cork City Centre
You will get the better part of a day to explore all Cork has to offer. Shopping, unique markets, both local fine dining and international cuisine, museums, some of the finest churches in Ireland including the Honan Chapel famous for housing the Harry Clarke Stained Glass Windows and many unique cultural and historic points of interest.
www.cork-guide.ie/corkcity.htm
Whale Watching
We will have an opportunity to take a four hour whale tour out of Baltimore Harbour. The whale tour will go follow along the South Ireland Coast and include a chance to disembark at North Harbour on Cape Clear for refreshments, and a small working with Manannan Mac Lir. Cape Clear is a Gaeltacht community where Irish is spoken as the first language. Our trip will afford us a good chance to spot risso's dolphins, minke whales, blue whales, basking sharks and seals plus many varieties of dolphins and other sealife. All safety equipment will be provided. Guests who do not wish to attend the whale tour will be offered an alternative activity.
Please note: We cannot guarantee a whale sighting. Whale tours can only depart in safe weather conditions, and these tours can be canceled or delayed up until departure time. We will work closely with our tour provider to ensure we have a good chance of attending this event, but if we can not safely attend, we will provide alternative activities based on group feedback and try to reschedule the Whale tour on an alternative day.
Time With Lora O'Brien
We have two opportunities during this trip to work with a native Irish Author and Presenter Lora O'Brien.
As part of this tour you will be able to access a recording and notes of Lora O'Brien's Online Class "Working With Sacred Sites" before our trip. This pre-recorded class and downloadable notes are an excellent two hour primer to any Ireland pilgrimage. Before the trip we will be spending an hour in a webclass with Lora discussing the sacred site class material we watched and read about and learning a little bit about how Vyviane, Stephanie and Morgan approach pilgrimage. You can learn more about the class here: http://loraobrien.net/learning/sites/
On the tour Lora will be spending an entire day with us. She will be presenting materials of most interest to you, our guest. We will send out a survey closer to the trip time so you may vote and give feedback on what you would find most helpful to learn from Lora. Some options will include Further Sacred Site Work, Intro To The Morrigan, Irish Otherworld Journeying, Creating and Maintaining an Irish Spiritual practise and Holy Days of Ireland Past and Present. If you have any further ideas or requests please let Vyviane know.
Lodgings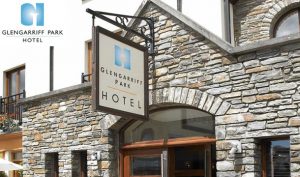 We will be spending one evening at a hotel in Ennis.
Our remaining seven nights will be spent at award winning Glengariff Park Hotel. Located in the harbour town of Glengariff. Glengariff Park Hotel is newly renovated and has a restaurant and pub in the building. The town of Glengariff has many places to eat, drink, listen to music and explore the harbour. Very close by is sixty acres of Parks, Botanical Gardens and Nature Reserve which you will have free time to explore. Accommodations are shared with one other roommate. Roommate requests may be made. Several single rooms are available and best booked early. Cost for a Single Room is $225.00 USD. All rooms are en-suite.
Please make accommodation inquiries to Vyviane and not the the accommodations themselves.
Important Things to Note
Due to the nature of this trip and the location of the sites, we recommend that you are comfortable walking up to two miles over the course of a day and that you be able to navigate wet and muddy ground and uneven terrain.There are also a various number of steps and stairs at our lodgings, and at some of the sites we will be visiting. If you are concerned, or would like any additional info, please contact Vyviane directly at: vyviane@landseaskytravel.com.
While wi-fi is available at our lodging and our coach , we can not guarantee that connectivity will be consistently functional for the entire time of our stay.
For this trip to happen, we will need a set number of pre-registrations. You will receive an email when we hit that limit , so you can proceed with your airfare and other travel plans. The trip will be finalized (confirmed or cancelled) by Monday, September 1, 2017.
While Land Sea Sky Travel does not foresee canceling the trip for any reason on our end, there are many circumstances beyond our control, and we recommend that every trip participant either confirm that they have adequate trip insurance through their credit card, or that they buy adequate travel insurance through a reputable company, such as AAA or Travelex.