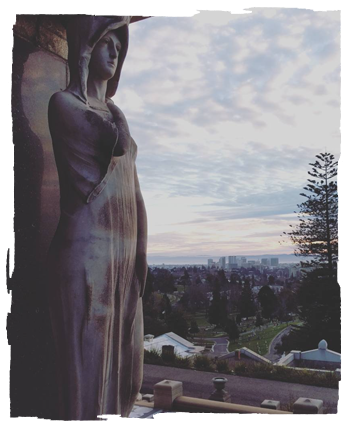 These are the upcoming trips and events for which Land Sea Sky Travel and its teachers will be in attendance. You may learn more about these events by signing up on our mailing list.
If you wish to be updated about just a specific trip without joining our mailing list, please write to vyviane@landseaskytravel.com with your request.
PantheaCon
February 17 – 20, 2017
San Jose, California
Please join us in room 269, The East Coast Pagan Networking Suite. We have a fun weekend of Meet & Greet, Mead Making Workshops, and author book signings to offer. You can learn more about our schedule on our Facebook Event Page.
Lora O'Brien's Otherworld Journey
Summer 2017
Northwest United States
Land, Sea, Sky Travel is excited to announce that we will be hosting a four day workshop with Irish Author Lora O'Brien in Oakland, California, starting the evening of November 16, 2017 with a Meet and Greet dinner, followed by three full days of teaching, fellowship, ritual, and authentic Irish connection. Please stay tuned to this space for further details, including cost and registration. There will be at least one scholarship position available for this weekend.
To find out more about Lora and her work, please visit her website, http://www.loraobrien.net.
Mystic South: Theory, Practice and Play

July 21 – 23, 2017, Atlanta, GA
Beyond the Veil: Madonnas, Myths & Magic in Northern France
April 2018
Along with our dear friends at Hello Shakti, we are pleased to present Beyond The Veil: Madonnas, Myth and Magic in Northern France. This retreat will be held in April 2018, details and registration to come soon.
Beltane 2018 Ireland Tour
Join Stephanie Woodfield, Morgan Daimler, and Vyviane Armstrong on a tour of Ireland. Registration will open on December 1, 2016.
Hiddenfolk, Witches & Elves: A Pagan Pilgrimage Thru Iceland's Magical Landscape
September 18, 2018 – September 25, 2018
A trip around Iceland to connect with Icelandic Sagas, sacred sites, lore, and Heathenry. More details to come. Registration coming soon.
Hosted by Morgan Daimler, Catherine Heath, and Vyviane Armstrong.
---
Past Events
Seeking The Great Queen: A Sacred Journey in Ireland
Samhain 2016 (currently full, we do have a waiting list)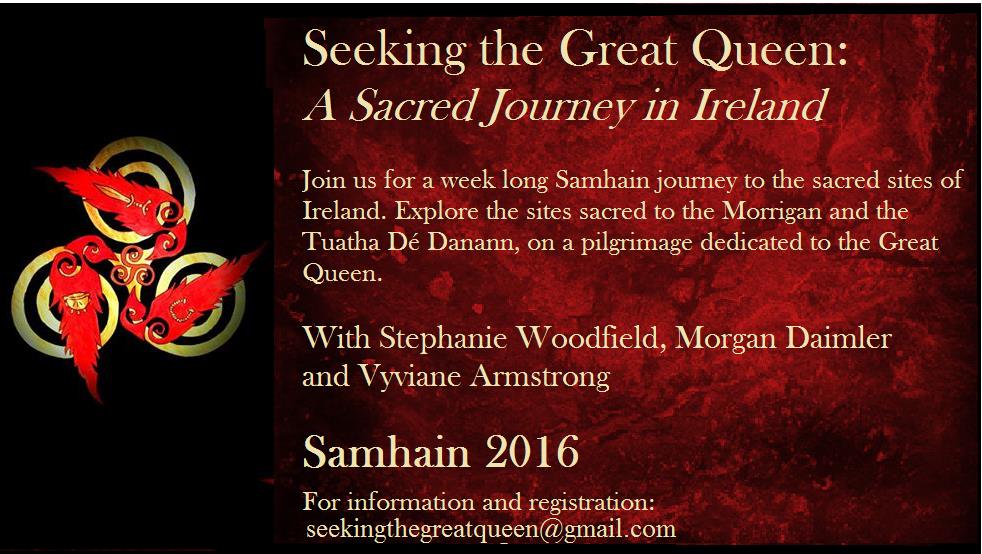 Do you hear her voice whispering to you on the wind? Do you feel her presence in the shadows calling to you? Can you feel her warrior spirit stir within you? The Morrigan is calling to us once again, will you answer the Call?
Join Stephanie Woodfield, Morgan Daimler, and Vyviane Armstrong for a week-long Samhain journey to the sacred sites of Ireland. Explore the sites sacred to the Morrigan and the Tuatha Dé Danann, while connecting with the land and the Great Queen. The sites we will be visiting include: Dublin (including the National Library for Yeats exhibit, the National Museum, the Hugh Lane Gallery, and the Garden of Remembrance), Rathcroghan, Emain Macha, the Cave of Cruachan, Boa Island (Janus Stones), Loughcrew, Newgrange, The Paps of Morrigan, Labby Rock, and a special Samhain Festival at the Historic Hill of Ward.