A Year with Our Gods
Land Sea Sky Travel hosts a series of online conferences, A Year With Our Gods: An Online Polytheist Conference. Over the course of the year, we will be hosting an eight-part series focusing on the holy days, equinoxes and solstices, each holding a specific theme relevant to Irish and Welsh Polytheists.
Prices & Passes
Pricing
Our Conference Pricing for 2019
$45 - Land Sea Sky Alumni
$60 - Regular Price
Additionally, a Conference Pass is available for $325, which provides access to all eight conferences. For conferences that have already passed you will receive a recording of that conference. You may add on an additional $200 and receive all Welcome Packets and Conference recordings for the 2019 Conference year to our package.
Scholarships Available
To apply for a scholarship, please email us a note, including why this conference is important to you, and what you hope to get out of it. There is no need to provide financial reasons for needing a scholarship. You may apply to other conferences in the future, even if you have received a scholarship from us in a past.
Wisdom of the Ages Pass
To help us honor and host the youngest and eldest voices in our community, this conference is free to individuals under 21 and over 71 at the time of the conference. Please email us and ask for your Wisdom Of The Ages Pass. You may attend as many of our 2019 Year With Our Gods conferences as you wish on this pass.
Women of Color Hearth Pass
We would like to invite all Pagan and Polytheist Women of Color to attend our upcoming A Year With Our Gods Conference Series for free of charge! To qualify you simply need to identify as a woman of color. E-Mail us at vyviane@landseaskytravel.com and ask for your tickets. You may request a specific conference or a year long pass. We honor your voices in our community and would like to do our part to make sure we keep hearing them. This is offered regardless of financial situation.
Viewing Parties
Viewing Party passes for groups are a cost-effective and fun way of attending. Passes are $100 for Each guest receives a Digital Download Welcome Packet, as well as a recording of the conference. Plan on gathering your guests together to watch the conference in person on a single screen. To take advantage of this, please send a separate email, including a list of your guests with their respective email addresses.
What's Included
Your registration gets you into our all-day online conference, held on Zoom, to watch our five presentations and our bardic closing for the day. Our day starts and ends with devotional prayers and offerings to Deity. The day also includes giveaways, a chat room, and interactive breaks where you can get to know others in our community. You will also receive a recording of all five presentations and bardic time after the conference.
We are very excited to offer a digital download Welcome Packet to all registered guests. The Welcome Packet includes all the class notes, a downloadable present from each presenter, and various other goodies from polytheist and pagan run businesses.
Your conference registration not only helps us fund our scholarship positions, but it also pays fair wages for our presenters, web designers, photographers, coordinators, and myself, for our time and energy. Everyone involved with this project is an Irish or Welsh Polytheist, providing this work as a means of supporting our families and communities.
A portion of each registration will be gifted to a Deity-aligned charity at the end of our conference, during our final offering of the day. You may give more directly to our charity on that day if you wish. More details will be included in your Welcome Packet.
How To Register
To sign up, please use PayPal to send us your ticket fee, to vyviane@landseaskytravel.com. If you would like your welcome packet and ticket sent to an email different from your PayPal email, please leave us a note on the transaction, or email me directly with your requests. All emails go to vyviane@landseaskytravel.com.
Thank you for your patience as we get this all together. If you have any questions feel free to email us.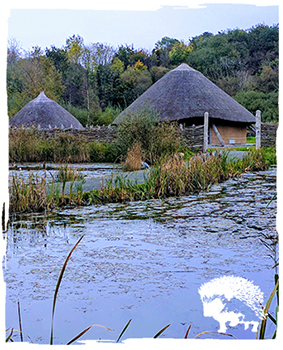 Hospitality Statement
Land Sea Sky Travel and its founder Vyviane Armstrong hold in highest regard open mindedness and hospitality. As such we have a zero tolerance policy towards racism, religious intolerance, sexism, transphobia, ageism, homophobia, ablesim and all other forms of discrimination.
We strive to hold safe events, both in person and virtually via our social media sites. If you ever encounter any form of harassment or feel unsafe in our community, please reach out to Vyviane immediately or any other member of staff if necessary.
All teachers, moderators and employees of Land Sea Sky Travel have agreed to the above tenets and will assist in making our guests, clients, vendors, and friends feel safe and supported. We also strive to work with vendors and companies that hold and express similar values as our own.